Blusteak recently launched ad campaigns for a famous stationery brand, and the results were phenomenal. We generated a ROAS of 7 even with some major setbacks. This case study will discuss more on our client, their challenges, and how Blusteak helped them get the desired results.
About the client
Our client is India's most famous stationery brand that sells journals, notebooks, diaries, gift cards, planners, and accessories. The brand believes in creating art and giving its customers a sweet space to write their thoughts and connect with their souls. 
In just a few years of its launch, they have received immense love and support from their customers and are among Amazon's biggest journal sellers. Their stationeries are visually appealing, affordable, and are of superb quality. 
Brand concerns 
The latest privacy update of iOS 14 was our biggest concern. 
Generally, brands utilize personal data collected by various sites to understand their behavioural pattern and retarget them with products that match their preference. 
But with the iOS 14 privacy feature, users can limit data sharing from other companies. Users can also see an in-depth report on how websites and apps are tracking their data and how many have been blocked by iOS. 
Every app in the Apple app store comes with a 'nutrition level' that determines the extent of information collected, like browsing history, contact information, or online purchases (even before the app is downloaded)
These are some of the most crucial aspects a marketer analyses before running campaigns. Without these, it's like hitting an arrow in the dark. 
Our client also had a significant percentage of their target audience that uses iOS. 
And targeting them after the privacy changes were difficult.
The Ultimate Solution 
Blusteak came up with the following solution that helped our client grow in revenues-
1. Targeted the right user-base 
Our team primarily focused on identifying our client's target audience to achieve the maximum results. We rigorously analyzed our previous ad campaigns and concluded that women between 16-35 years of age are artistic and inclined toward stationery products. Now that we knew whom we were targeting, creating campaigns for them became quite easier.  
Also Read: Increased Instagram Followers by 7k Organically in Just 90 Days
2. Created carousel campaigns 
Carousel ads now outperform regular ads on Facebook. They are said to drive 10 times more traffic and are highly recommended for brands to get new customers. Our team created amazing carousels for our client that hit the right note and targeted women with artistic interests. 

We made sure that our campaigns had insider pages that talked about the features of the product and how many ways they could use it. Along with carousel campaigns, we also tried diversifying our target audience by launching campaigns for people interested in crafts, journaling, and affirmations. 
3. Run a variety of ads 
Our team did not shy away from running unique ads on different platforms to understand what worked for our client and what did not. We used Instagram to run reel ads, which included influencers who unboxed our product and discussed its features and benefits.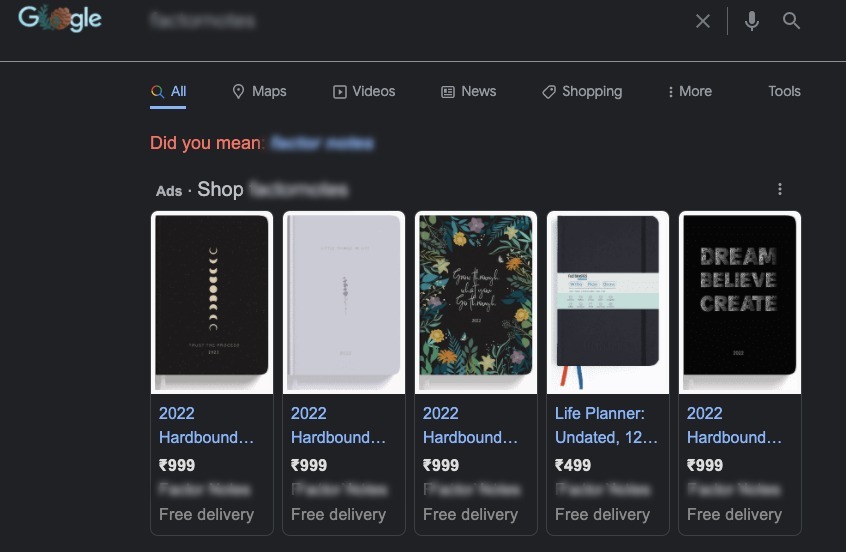 For Google, we ran Google shopping ads and displayed ads to retarget website visitors on Fb and Instagram. We also ran Black Friday sales that retargeted website visitors and abandoned carts recently.
The Final Result
Our hard work finally paid off!
We could target the right audience and achieve a ROAS of 7 even with such a competitive market. 
For every project that Blusteak takes, our team makes sure that we experiment with many things and work at our highest potential to help our client achieve their goals.