Last month Blusteak Media ran ad campaigns for a popular stationery brand, and our team achieved a ROAS of over 10. This case study will briefly talk about the brand, the challenges we faced, and the steps our team took to generate such phenomenal results. 
About the Client 
Our client is India's most famous stationery brand that sells planners, sketchbooks, diaries, gift cards and notebooks. The main motive of the brand is to unleash the creative side of people and let them write down their thoughts and emotions. Its offers quality stationery products that are eye-catching at an affordable rate. 
In a very short time, our client has sold thousands of stationery items and has become Amazon's biggest journal seller. Not just this, they also have an incredible fan following on social sites like Instagram with over 50,000 followers. 
Brand concerns 
The latest privacy update of iOS 14 was our biggest concern. 
Most websites now collect behavioural data of users to understand what excites them. This helps brands target customers with products that match their interest level. But, with the latest iOS 14 update, users can limit this data-sharing to websites like browsing history, contact information, or online purchases. 
These parameters help marketers find the right audience to target their ads. Our client also has a significant base of iOS users, and targeting them after the privacy change was challenging. 
The Ultimate Solution 
Despite these challenges, our team was able to bring up good revenue numbers for our clients; let's see how we did that-
1. Launched reel and story ads for their Instagram audience
Presently, Instagram is prioritizing its latest feature reels. 
According to Instagram, 'Reels is the best place to reach people who don't follow you and a growing global stage where anyone can discover brands and creators. These ads will help businesses reach greater audiences, allowing people to discover inspiring new content from brands and creators."
Reels are short-video content that mimics the algorithm of TikTok. You can find your paid reels on the reel tab placed between non-sponsored content or at the IG explore page or on feeds of users. Most people on Instagram prefer short-form content that speaks directly, and posting such reel ads are an excellent way not to get your customer bored; in fact, it encourages them to interact. 
Plus, we also launched story ads to get the conversation started. Doing story ads are as beneficial as reel ads, and they have given our excellent client response. 
2. Focused on user-generated ads 
For someone who loves stationery, the packaging is the first thing they would be interested in. So we created an unboxing video for our reel ads where we showed the entire hamper and the items inside the box. Such videos perform great on Instagram as it encourages users to feel the experience of opening their package.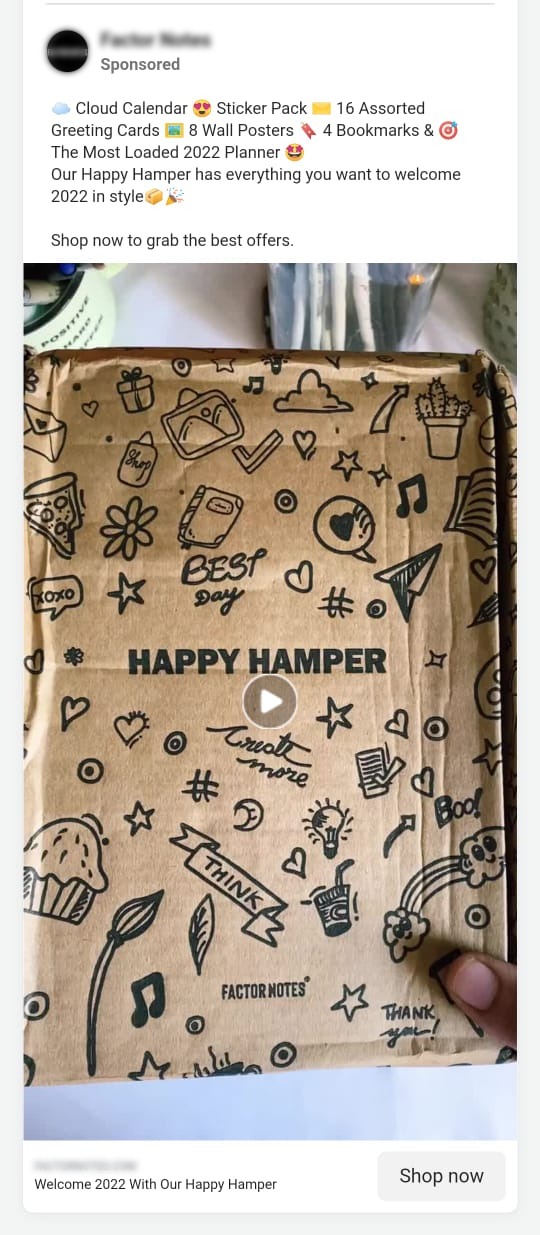 Our team created user-generated content where the customer feels that excitement and is ready to get that first-hand experience. Statistically, user-generated content gets 7 times the engagement than other content created by the brand. And, for a brand that involves stationery, nobody could say no to that creative bundle.
Our team knew the target audience really well and we strategically created ads that gave users both an excellent user experience and the features of the products. 
3. Retargeted website audience 
Retargeting has an efficiency rate of 1046%, beating all other ad placements. In simpler terms, it means to target customers who had reached the checkout page but didn't shop. Many times, visitors abandon their carts because of transaction difficulty, or they are not sure of their purchase or just have forgotten that they had something in the cart.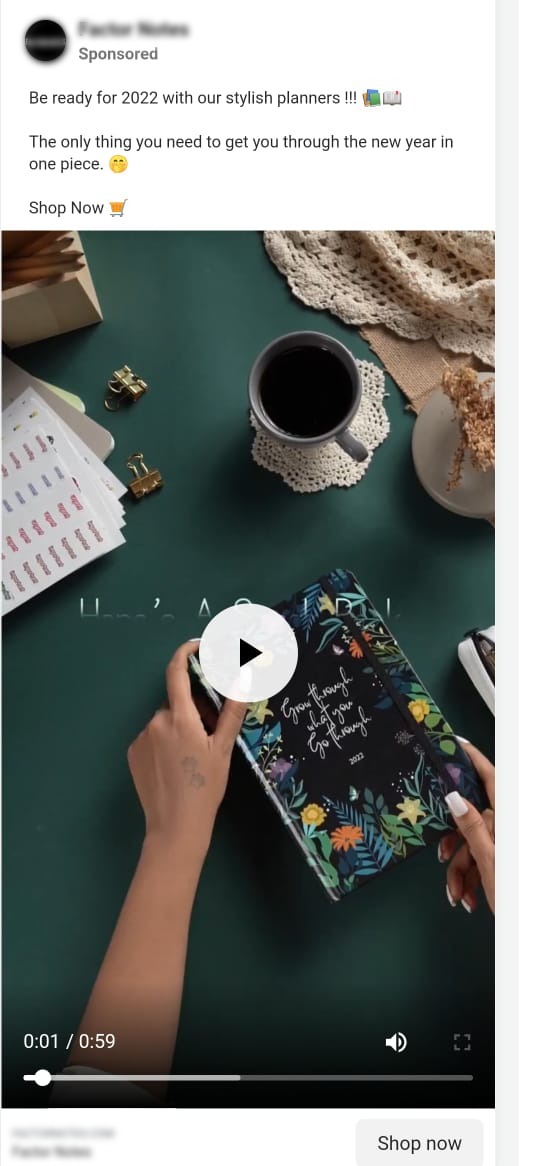 So, our team decided to re-target those customers that visited our customers on our client's websites and Instagram along with their lookalike audience. We directed that traffic to their count-down Christmas ad, so they might find an alternative option acceptable even if the customer didn't want the item that was added to their cart. 
Final Result 
We have hit a ROAS of 10 for our client in the past month, and we aim to break this record next time. Our team strategically dealt with all the challenges and created a solid ad plan for our client.