Is WhatsApp a personal messaging app or a social platform? If you ask around, you'll find people use it mostly to stay in touch with their loved ones.
Rare are the users who use WhatsApp to get in touch with businesses. Even when over 200 million businesses use WhatsApp worldwide, it's not considered a business communication app. And seldom do brands run campaigns to update customers over WhatsApp.
Now, with the launch of WhatsApp Channels in India, Meta (previously Facebook) seems to grow WhatsApp among businesses better.
In this article, we are digging into how businesses can use WhatsApp channels. You'll learn what is a WhatsApp channel actually and how you can tap into its potential to improve your business presence.
Let's dive in.
What are WhatsApp channels?
Channels on WhatsApp work like a one-way broadcast tool for businesses to share updates with followers. Those who follow the channel receive your updates in the new "Updates" tab, along with the status updates of their contacts.
"WhatsApp Channel is a one-way broadcast tool for businesses to share updates with their followers on WhatsApp."
These channels are public and searchable. But you can choose to keep your channel private and invite-only, too. Admins can send text, photos, videos and other messages, much like Instagram Broadcast Channels. To understand WhatsApp channels better, undergoing digital marketing training can be of massive help.
Also Read: Instagram Broadcast Channels: Your Key to Boost Profile Engagement
How to create channels on WhatsApp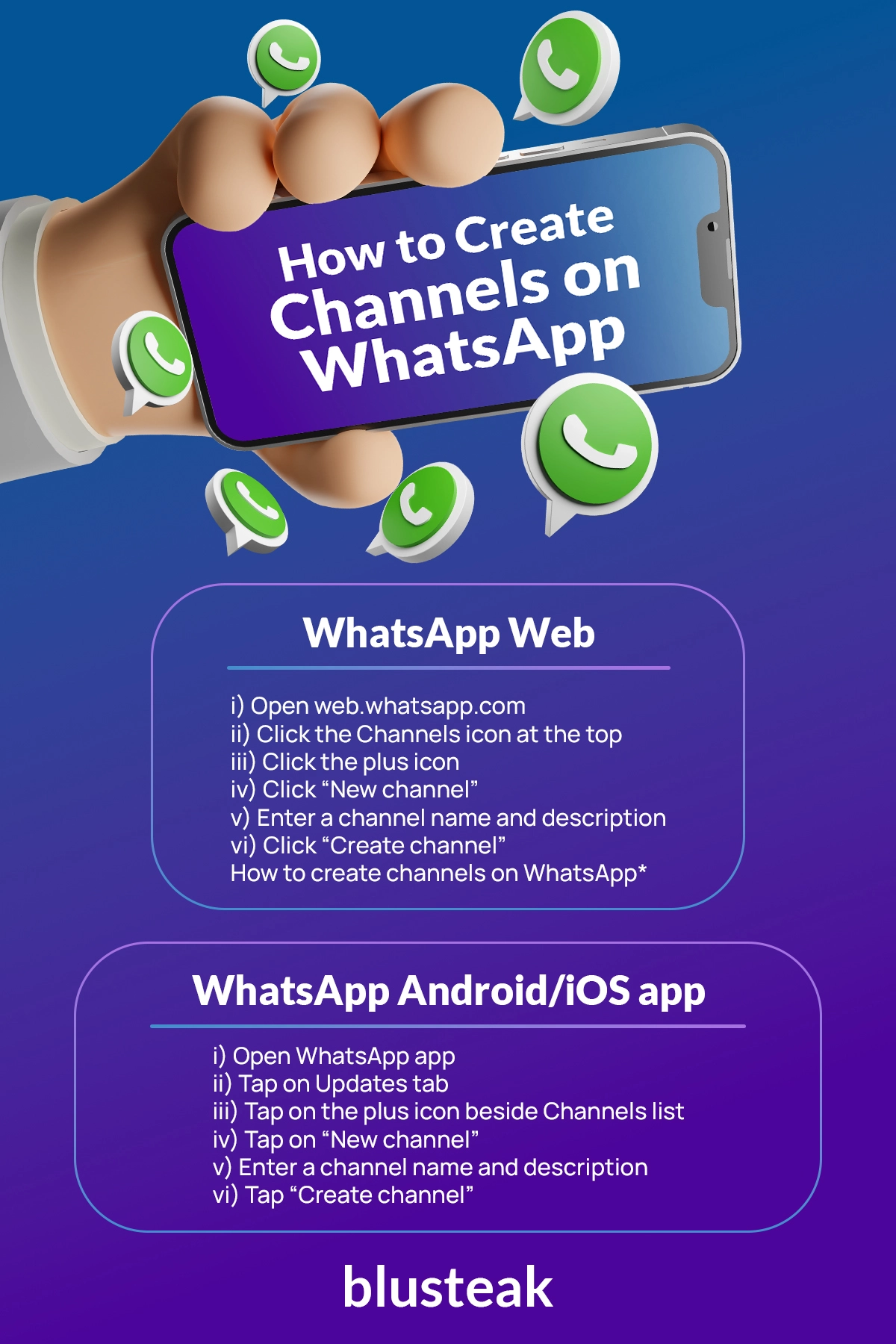 You can create WhatsApp business channels through the Android/iOS app and WhatsApp Web. Here's the process:
Through WhatsApp Web
i) Open web.whatsapp.com
ii) Click the Channels icon at the top
iii) Click the plus icon
iv) Click "New channel"
v) Enter a channel name and description
vi) Click "Create channel"
Through Android/iOS app
i) Open WhatsApp app
ii) Tap on Updates tab
iii) Tap on the plus icon beside Channels list
iv) Tap on "New channel"
v) Enter a channel name and description
vi) Tap "Create channel"
You can create channels using the normal WhatsApp app as well as the WhatsApp Business app. After you create one, share the invite link on every platform where you're active. It ensures that your fans and loyal customers follow it ASAP.
Now, let's check out the ways you can use Meta WhatsApp Channels for your business.
7 Ways Brands can use WhatsApp channels

1. Product Announcements
One way to use Channels is to drop the deets on your newest products or service launches. WhatsApp fans and followers would love to be the first to get the information. Announcing influencer collaborations and partnerships with other brands is another thing you can do.
WhatsApp Channels can also be an excellent mode of communication to show off your social initiatives.
2. Sales & Deals Updates
Another good thing to do with WhatsApp Channels is to broadcast flash sales and exclusive deals. With WhatsApp Channels, you get deal alerts delivered straight to customers without being intrusive. It's almost like leaving them a secret note to check later.
Customers love a good sale, and the channel can drive quick sales. Whether you're slashing prices or offering a BOGO (buy-one-get-one) deal, you can shout it out there.
3. Regular Content Sharing
You can also share your existing content, such as articles, videos or infographics. WhatsApp Channels can be your new source to drive traffic. Then, you can always share useful info over native text format.
Whether your content is educational, informative or entertaining, you can share it with your channel followers. From how-to guides to unique tips, there's a lot you can do.
Also Read: 15 Best Copy.AI Alternatives to Scale Your Content
4. Customer Engagement
WhatsApp Channels for business can also be a novel way to keep your fans and customers engaged. It's a perfect way to host mini-contests and giveaways.
Channels can also help you with conducting direct market research with in-built polls. You can gather feedback on your products or services quickly. You can also do fun polls about your content or (maybe) a burning question.
5. Event Invitations
If you're hosting a launch event or a webinar, Channels can help make your followers feel like VIPs. You can send them an exclusive invitation link via your channel. Using WhatsApp's multimedia capabilities to its fullest, you can send countdown GIFs, fancy invites and even cool curtains-up videos.
Also Read: How to Create Effective Paid Webinars That Attract Attendees
6. Customer Support Alerts
Customer support is another department where WhatsApp business channels can come in handy. You can use them to update followers on common issues and resolutions or share information about FAQs. In addition to those, you can also share updates about referral benefits, loyalty programs or other such incentives.
7. Behind-the-Scenes Updates
Posting behind-the-scenes images and videos of daily business is an excellent way to win customers' trust. WhatsApp Channels can help you let your followers have a peek behind the curtain. It helps build customer trust.
Whether it's about product packaging, a day in the office, or introducing the team folks, these backstage glimpses show the human side of your brand. You may even share silly goof-ups.
Wrapping It up
WhatsApp Channel, like Telegram and Instagram, has plenty of use cases for businesses. Whether you're considering of using it for marketing or support communication, it can serve you well.
Want to use WhatsApp Channels for business growth? Get in touch with Blusteak. We are here to help.