Blusteak recently worked with an institute running online learning sessions. It needed help with selling more of its courses. While its Facebook ads did particularly well, the Cost Per Purchase (CPP) was constantly high.
We studied their target market and tweaked the ad campaigns. And our campaigns reduced the client's CPP by 36%. The Return on Ad Spend (ROAS) also improved.
Read this case study to find out how Blusteak did it.
About the Brand
NumberOne Academy is an e-learning platform offering affordable entrepreneurship courses. Its courses include Business Planning, Time Management, Excel Functions and other relevant topics. And all those are in regional languages, Malayalam and Tamil, making them accessible to everyone.
Our Challenge
Although the client's existing ad campaigns were bringing sales, the cost was high. So, our primary task was to increase the number of purchases and lower the Cost Per Purchase. We needed better returns.
The Ultimate Solution
Prepared ad creatives ideal for the audience
To engage our target audience better, we needed creatives that resonated with their interests, preferences and needs. So, we produced two testimonials from existing customers of the institute, belonging to our target market. It helped us craft compelling ads that showcased the benefits of the courses.
Created a lookalike audience set
Next, we set ad targeting to a lookalike audience based on past purchases. It helped us serve our ads to an ideal pool of prospects who were more likely to buy the offered courses. It also increased the number of customers with a lesser ad expense.
Leverage Facebook's Interest Targeting
Apart from those, we took advantage of Facebook's Interest Targeting to refine our ads' reach. We identified specific interests and hobbies to find target audiences related to MSME. It ensured that our ads reached users who were already interested in topics similar to what we offered. And this targeting also helped in reducing the CPP.
The Result
Blusteak increased the number of customers who bought the courses. Thus, we brought down the CPP to 1600 from 2500 (in the month before we were hired). The strategy, overall, also increased the ROAS by 50%.
Before:
February (CPP: 2500)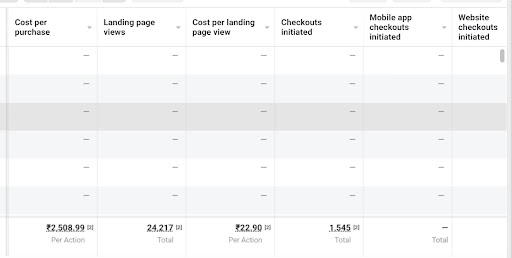 After:
April (CPP: 1600)