Context
Alpha Ayurveda is the sister brand of Ayurdan Ayurveda Hospital which is one of the best rated Ayurveda clinics in Kerala. Alpha Ayurveda started its production 2-3 years back and they started off with female reproductive health supplements. Not too long ago they thought of introducing natural weight gainers and that was a game changer for them.
Problem
Even though the sales were going good, Blusteak couldn't just sit and relax with this performance. We wanted to boost the sales by a minimum of Rs.30,000 per day. We noticed that the store sessions were good but the conversion ratio was stuck at 3 – 3.7%.

Solution
The whole idea on increasing conversion rate is nothing but bringing the right people to the store. So the step is to create an ad (figure:1) which clearly portrays what the product and website is all about and what it has to offer and 70% of the people who click the ads are interested in Alpha Ayurveda's products.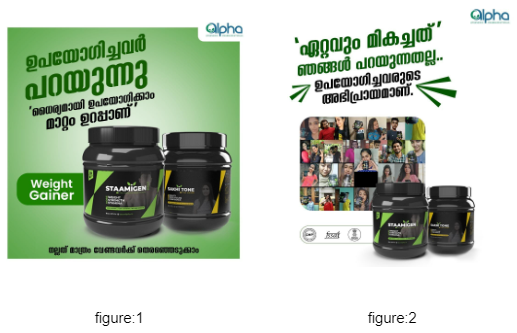 What if someone liked our product but couldn't purchase it due to some reasons? That's where we created another remarketing ad (figure: 2) for the people who have visited the website. This ad is made in such a way that it provides trust to people who are interested.
Combining these two ads, we have managed to increase the conversion rate by more than 1 % in less than a week.

Video Explanation
Impact
Store conversion rate increased by more than 1% (from 3 – 4.82%)
Store Sales increased by 58%
Total Products sold in a week increased by 51%