Growing a Substack newsletter can be difficult. Not impossible, but difficult. Reaching out to interested readers and keeping them engaged isn't so straightforward. So, this article is for you to help you grow your email list on Substack.
Many people have levelled up from free subscribers. They have attracted their readers to pay for subscriptions. You can, too. In fact, Substack has 500,000+ paid users.
In this article, we're giving away six tricks that have been proven to grow Substack newsletters. These will help you find more readers and monetize your newsletter.
Let's dive in.
What Exactly is Substack
Substack is a newsletter platform that combines the power of blogging and journaling. It comes with a public archive for anyone to read your thoughts and subscribe to them.
It has a simple interface to help you easily write and manage a newsletter. With one click of a button, you publish to the web, email and Substack app at once. It's a one-stop site to connect with your readers and build a community.
Substack even handles part of marketing for you. People can read content from their favourite newsletters and also discover new ones. Over 30% of all new free subscriptions and around 10% of paid subscriptions come from Substack itself.
Now that you know Substack, here are the tips to grow your audience.
6 Tips to Grow Substack Newsletter
1. Position Subscribe Button with Apt CTAs
CTAs (calls-to-action) are critical in converting a visitor into your subscriber. Now, Substack throws in a subscription form at the end of the newsletter automatically. But what if someone doesn't read the entire newsletter? What if they found what they needed at line 43 and then swiped back?
So, put CTAs where they're most effective, i.e., in between your content, when the reader is well-immersed in reading.
The Ankler is an excellent example of this tactic. They add subscription forms and other CTAs in between sections.
2. Form a WhatsApp/Telegram Group
Jaison Thomas (our proactive CMO) uses this way of promotion for his Growth with Gratitude marketing newsletter. He has a group on WhatsApp and Telegram where he shares marketing content and relevant updates.
And he posts his latest newsletter content on both platforms as he publishes. It ensures his new (and existing) group members get to read his newsletters regularly.
Unsure about starting a group? Check this case study about WhatsApp vs Telegram for business marketing
3. Give Free Ebooks or Case Studies
Ebooks and case study giveaways are an excellent way to build a Substack email list. Free checklists and templates also work. They act as magnets that pull the audience into your list. No one would refuse to hand out their email address when they get a good incentive.
You can share giveaways with your social media audience, WhatsApp/Telegram groups, and anywhere you have a thriving community.
With ideal giveaways, you can see conversion rates of up to 60%.
4. Repurpose Newsletters as Twitter Threads
Twitter threads are an engaging way to turn your Substack newsletter into a micro-blog. You can use threads to share important points from your newsletter as consumable chunks. And at the end of the thread, in the last tweet, you can include a link to your newsletter.
Tweepsmap saw a 2417% increase in tweet impressions with Twitter threads in comparison to their single tweets.
Hua Shu uses this tactic to share her design newsletters on Twitter.
1|🖼️ FontDiscovery, no.92

I write a weekly guide sharing design ideas to help makers step up their marketing games & get creative.

Let's check out this week's tips for fonts, colors, and design ideas! 👇 pic.twitter.com/JT6qPc195C

— Hua (@HuaTweets) October 13, 2022
5. Pin the Newsletter on Social Media Profiles
Pinned content on social media gets the most attention. They're visible to whoever visits your profile. And you can leverage that aspect to drive more subscribers.
LinkedIn has a Featured section for media, links and posts. On Instagram, you can pin up to three posts on your profile. And Twitter allows a pinned tweet, in which you can add a link to your newsletter.
Twitter even highlights your newsletter on top of your profile when you set it with Revue. And if you use tools like Linktree, Expy or Bio.link, add your newsletter link there, too.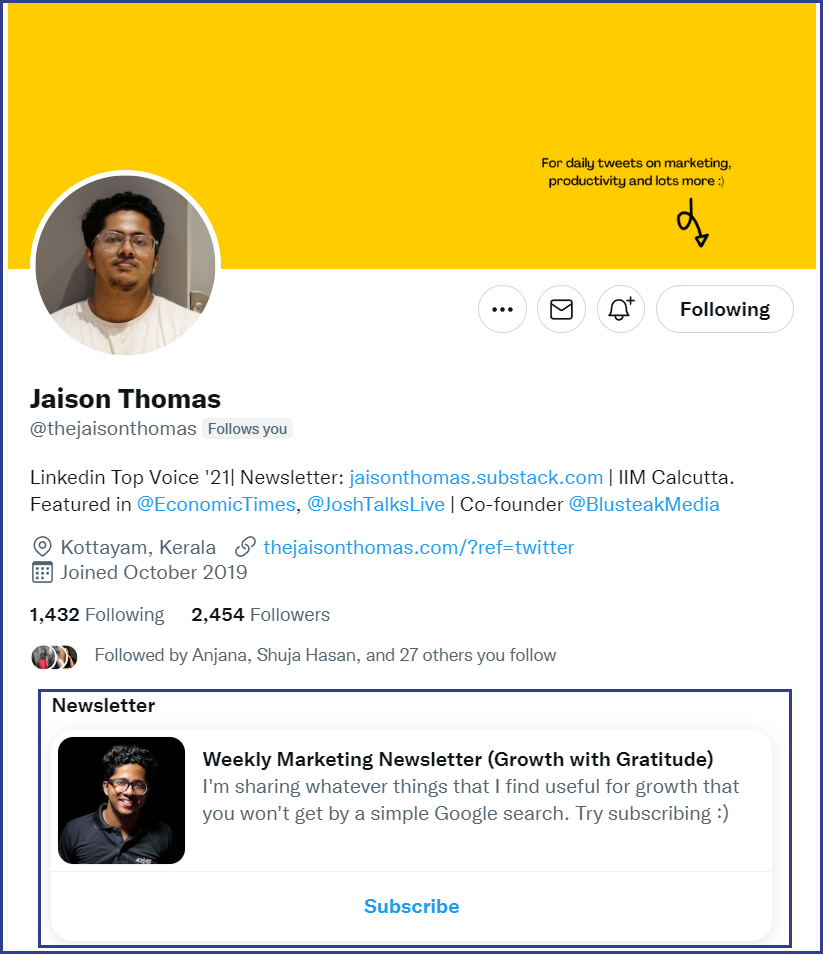 6. Ask Fellow Substack Writers to Feature Yours
Substack has this Recommendations feature that allows writers to endorse and promote each other's Substack publications. You can use that to your benefit. You can start by building a fruitful relationship with other Substackers and ask them to feature your newsletter.
Lenny Rachitsky noticed that 78% of his new subscribers are through recommendations from different newsletters. Gibson Biddle also saw a significant increase in subscriber count with Substack Recommendations.
FAQs about Substack Newsletter
1. Can anyone start a Substack?
Yes, everyone can start a Substack. It's free to get started.
2. Is Substack better than Mailchimp?
Both Substack and Mailchimp can be used for newsletters. Substack is better than Mailchimp if you want to write newsletters as a blog. Mailchimp is best suited for email marketing.
3. How long should a Substack post be?
Your Substack newsletter can be as long as you want it to. But make sure your newsletters aren't overwhelming with hundreds of lines of text. The ideal email length is 200-300 words.
4. What is the Average Open Rate of Substack?
We found the Open Rate of Substack newsletters to be between 20% and 25%.
5. Do people make money on Substack?
Yes, people make money on Substack through reader subscriptions. Substack allows you to set up a paid newsletter with a monthly or annual subscription model.
Wrapping It Up
Hoping that you have got a fair idea of how you can grow your Substack newsletter. These tips will help you attract the audience for sure. But you also need to create content that keeps them coming for more. So, put in some hard work and keep your audience engaged.
Wish you have a fun time growing your Substack.