You want to set up your own ecommerce website. You'd like full control over your product sales and delivery. But how beneficial is it selling on your own website vs Amazon India?
Well, benefits are numerous.
And if you build trust among your target customers, they'll buy your products directly from your website. They won't go to Amazon, Flipkart or other marketplaces.
Over 70% of people, in a poll I ran, said they shop from Non-Amazon/Flipkart sites too.
During the poll, I also discovered some interesting views regarding what encourages people to buy from a website. Will tell you about those later in this article, so that you can attract more customers to your own website.
But first, let's check out some peculiarities involved with selling products online.
Selling on your own Website vs Amazon
Control of store
When you sell your products on Amazon India or any other marketplace, you must follow their rules. They can even change their rules, design or the entire site structure overnight.
But with your website, you've full control of your store, and what you want to sell on it.
Competition
When people search for something, Amazon lists hundreds of products from different sellers.
But in case of your online store, buyers will see the items only you offer for sale. Besides, they can see all the various design choices and colour options you offer.
Also Read: How Blusteak helped oxygen digital kick start ecommerce
Fees
Listing products on Amazon India attracts a few different fees like referral fee, plan fee and others. Amazon even keeps a huge share of the sales.
However, with your website, you won't need to worry about paying massive cuts off your sales.
Access to data
Amazon provides plenty of data about your store, products and sales.
With your website, you can go beyond those data. You can set up analytical tools to know how people spend time on your website, track their entire buying activity and much more.
Brand loyalty
When people buy your products from Amazon instead of your own website, they mention they bought them from Amazon.
However, by building your store, you're attaching your brand recall with the products you sell.
How to get more customers for your ecommerce store?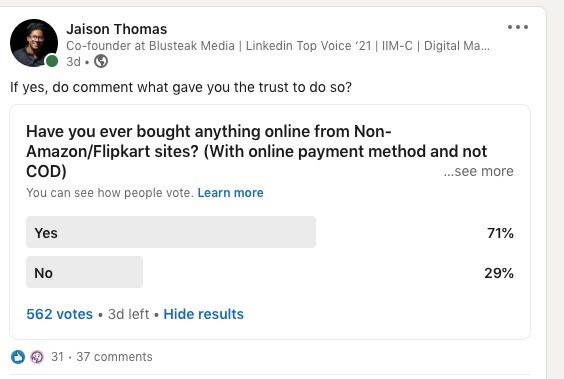 Now that you know the benefits of having your own ecommerce website vs Amazon India, let's see how to improve your sales.
I asked my LinkedIn followers what gives them the trust to buy from sites other than the popular marketplaces. Among the top reasons, broadly, were personal brand of the owner, recommendations from friends, and the customer service experience. (Link to the post)
So, to attract customers to your store:
Focus on personal branding:
People don't trust new stores easily. But you can transfer the reputation you've to your store. When your customers believe in you, they'll buy from your store. So, build that trust before setting up your store. If you want to sell personal care products, people should see you as someone who cares about health, wellness and similar things.
Build trust through reviews:
Reputation of your products is as important as the store's reputation. And reviews are the best way to build it. So, encourage your customers to share their reviews and shopping experience when they buy and use your products. Reviews stimulate customers while making a purchase.
Work on customer experience:
Customers remember how you made them feel, more than your website or your products. So, leave no stone unturned to make them feel special. You don't always need to send surprise goodies. A smooth ordering process, a friendly support or a sweet confirmation email can go a long way.
Increase social media presence:
Social media allows you to reach your prospective customers directly and interact with them. As they engage with your posts, they know you better. When people see you where they are, when they know you are reachable, gradually, they'll drop their hesitation to try your products.
Also Read: How Small Businesses Can Take Advantage of Instagram Reels?
Promote campaigns with stories:
The online world is buzzing with "innovative" products. New ecommerce stores are being launched every day. And you need to stand out. Your stories are what makes you unique. So, create campaigns to promote those. You can share customer experiences, glimpses from behind the scenes and anything which shows the human side of your brand.
Final thoughts
Running your own store online isn't an easy feat. But when people connect with your thoughts and relate to your stories, they'll be inclined to check your website and buy from you. And it would be more successful than having a space on Amazon India, Flipkart or any other site.
I've already mentioned five tips to help you get more customers. Feel free to email us if you need more help.