Have you ever felt like designing your own Harry Potter graphic novels? Yes, you can. With Midjourney. Creating your own art might be easier than ever now.
Midjourney AI art generator is your creative genie. It turns your thousand words into stunning fantasy art. However, unlike conventional AI image generators, Midjourney doesn't have its own interface. It isn't packaged as an app.
So, in this article, we're exploring how to take this genie out of the bottle to serve you. This is a brief guide on how to use Midjourney AI to create new realities you imagine.
Shall we dive in? Let's.
How to use Midjourney to create AI art
The only way (as of now) to access Midjourney is through Discord. Here are the steps:
Step 1: Log into your Discord account
Discord is an instant messaging platform used by communities around the world. It has been the tool of choice for gamers and developers to talk and hang out.
Midjourney's Discord channel is where you can chat with the Midjourney bot and generate your art. So, head over to Discord and sign in to your account. And if you don't have an account yet, register one. Discord is free to use.
Step 2: Join Midjourney's Discord channel
Once you have an account on Discord, visit Midjourney's website and click the "Join the Beta" button. Upon clicking, you'll see an invite to join its channel. Click Accept Invite, and you're in.

Step 3: Subscribe to a Midjourney plan
You'll need to subscribe to a paid plan to use Midjourney. It offered a free trial earlier but doesn't have any currently.
To do so, click on a "newbies" conversation from the side panel.

Now, type the command /subscribe in the message box and hit enter. The bot displays the link to the subscription page. Open the page and pick the plan that best suits your need. The Basic Plan starts at $8 per month, allowing ~200 image generations in a month.

Step 4: Generate your first AI art
Now comes the fun part.
Join the conversation and start creating. Type the command /imagine in the message box along with the text prompt for your image, and hit enter.
Wait a few moments, and Midjourney will generate four art variations for the prompt.

Step 5: Fine-tune your image
Along with the art, you'll see a few buttons to create larger versions and new variations of the images. You can also re-run the prompt to generate another set of four images.
Play with the options and fine-tune your images with better Midjourney prompts.
Looking for suitable prompts? Browse our marketplace of Midjourney prompts examples.
Tips for writing best Midjourney Prompts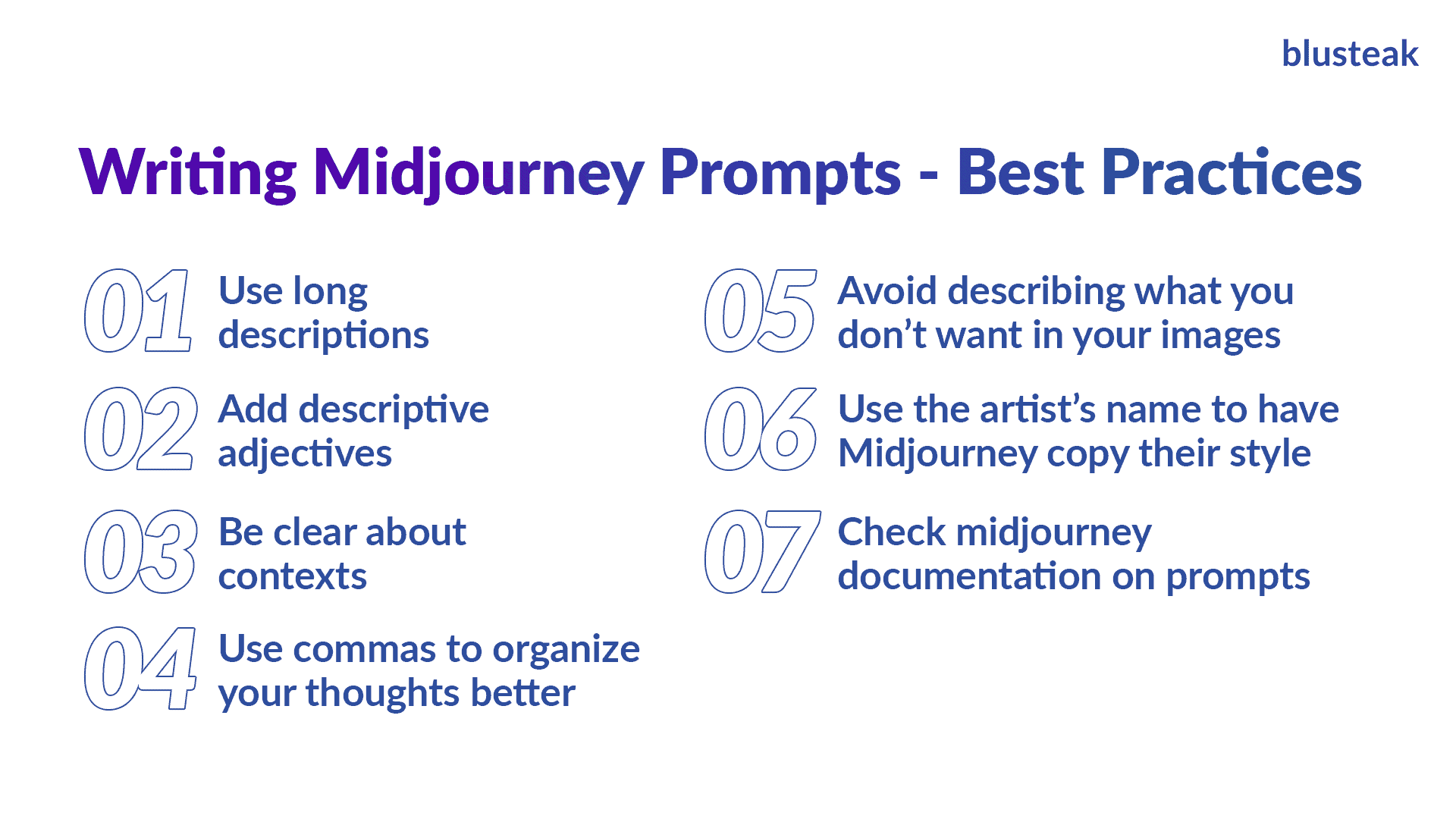 Midjourney prompts are short text phrases for the bot to interpret and generate the desired images. These can be as simple as a single word or complex with image URLs, multiple text phrases, and many more parameters.
And here's how to write the best Midjourney prompts:
i) Use long descriptions to be as specific as you can
ii) Add descriptive adjectives to get satisfactory results
iii) Be clear about contexts or details important to you
iv) Use commas to organize your thoughts better
v) Avoid describing what you don't want in your images
vi) Add an artist's name to have Midjourney copy their style
vii) Explore Midjourney's docs to understand prompting
FAQs about Midjourney AI
1. Can you use Midjourney for free?
As of today (May 13, 2023), Midjourney doesn't offer a free plan or free trial in any of its plans.
2. How much does Midjourney AI cost?
Midjourney has three price plans: Basic ($8 per month), Standard ($24 per month) and Pro ($48 per month). While the Basic plan allows limited generations (~200/month), the other two offer unlimited AI art generations and other features.
3. Can you upload a photo to Midjourney?
Yes, you can upload a photo to Midjourney and use them as the basis for your art generations.
4. How do I make an AI profile picture?
Midjourney supports using an image and changing the style art-ificially. If you have a public photo that you want to turn into an AI profile picture, copy its link and add it before your text prompt. You can also upload an image to Discord and use it to generate a new profile picture.
Check Midjourney's image prompts documentation to understand the nuances of Midjourney and experiment with the available tools.
5. How do I find my images on Midjourney?
All your generated images are available in your midjourney.com account.
Alternatively, you can check your Discord inbox and filter all notifications by Mentions. You'll find all the messages by the bot with images generated for you. Yet another way is to search for your username in the conversations and look through them one by one.
Wrapping It Up
Once you understand how to use Midjourney, you'll be able to bring your wild imagination to reality. Midjourney AI creates the worlds of fantasies you ever wanted. Hoping this article brings you closer to that.
Go and test out its infinitudes.