While digital marketing agencies are picked based on their performance, their price packages are also crucial for their success. Price low, and you'll attract lousy experiences; price high, and you'll scare away even the worthy leads.
When it comes to pricing digital marketing in India, you need to test and trial to find the right number. It's about understanding the market and having a pricing strategy that makes sense to you.
So, here in this article about pricing for digital marketing services, we're covering the different factors. We're also including the ongoing rates for various digital marketing plans and pricing in India. It will help you understand how to charge for marketing and price your services better.
Let's dive in.
Factors Affecting Digital Marketing Pricing
A variety of factors influence digital marketing service pricing, including: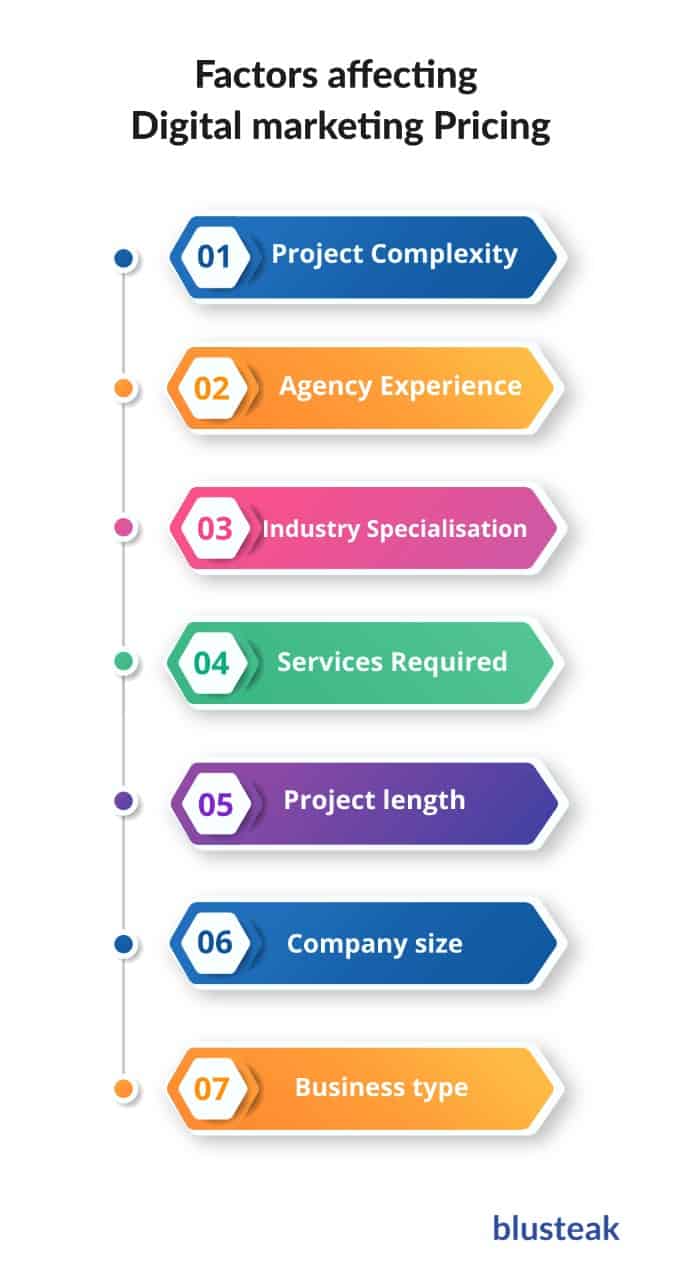 1. Project Complexity
Every client brings with them a level of complexity unique to their business. For example, marketing for an electronic retail chain with hundreds of appliances differs from an online store with only a dozen products. They have different goals and project expectations.
Clients looking for relaxed growth might pick a long-term SEO and organic social campaign at ₹25-30K per month. And those who want to pursue growth aggressively would choose a performance marketing campaign of ₹40-50K per month happily.
So, dig deep into the client's business first. The cost of digital marketing will vary depending on the campaign strategy you prepare for clients' specific needs.
2. Agency Experience
Apart from project complexity, your experience also determines your digital marketing price. The cost of a project can be high or low, depending on how experienced the agency is. For a new agency's ₹20K package, an accomplished agency's equivalent can be upwards of ₹50K.
Another thing to consider here is the competition. It's a competitive market, with multiple digital agencies trying to grab a chunk of market share.
So, you can see one agency quoting ₹40K for complete social media management, while other agency bills ₹35K for the same. Agencies do that just to attract more leads.
3. Industry Specialization
When a digital agency deeply understands a client's business and industry, it charges higher than others. And why not?
If you understand the patterns and trends in the health industry, for example, you're the social media beacon for health and wellness companies. You can set up result-oriented campaigns better. And your success rate is higher than other agencies.
Your advertising is highly-focused and targeted to the right demographic. You almost always bring manifold returns. So, you can keep the average cost of your services 2-3x higher than the going market rate.
Also Read: 5 Unique Ways to Get Foreign B2B Clients for Indian Business
4. Services Required
Services are one of the most prominent differentiators in the price of digital marketing services. Let's pay attention only to social media for the current discussion.
A social media package costs ₹50K per month with 20-30 posts spread across Instagram, Pinterest, Twitter, LinkedIn and Facebook. Content calendar, design and edits are all-inclusive in the rate.
Now, not every business owner wants a complete social media package. They might want you to focus only on one platform instead of all the various social media channels. In such a case, you might like to start with only ₹25K per month, depending on post frequency.
Then, if you want to offer only ad services (and no page management), the quotes generally start at ₹35K a month. The rate includes the monthly ad budget, from which the marketing agency takes its commission (~15% of ad spend).
A commission-based pricing model for digital marketing services is standard for ad campaigns. It includes the costs for campaign execution and management.
5. Project Length
The length and volume of the work involved also affect digital marketing costs. Clients hiring an agency for one campaign are charged a higher rate than those signing up agencies on long-term contracts.
For example, a one-time package of 2 Lead Gen campaigns (with branding and promotion) is priced at ₹30K. However, plenty of agencies give discounts if clients have a large volume of work instead of one-time assignments. You can even waive the initial campaign setup fee in such cases.
6. Company Size
When planning a budget for marketing, businesses have varied limits. Digital marketing pricing packages for small businesses differ significantly from those of corporations. So, it's good to take time to understand your clients and offer them a reasonable price range.
Agencies have tiered digital marketing plans for such cases. A three-tiered plan for social media marketing and performance marketing is the norm. The typical rates are ₹40K, ₹60K and ₹1L. These include services like social media profile management, analytics setup and administration, and regular content creation.
Some agencies even have an enterprise plan for clients with an ad budget of ₹3L per month. They assign a dedicated account manager to handle the entire management and execution.
For small businesses and startups, many agencies only provide the strategy to make their plans accessible. For ₹10-15K a month, they assist in content creation and train the client's team to execute. You can price your marketing services in that way too.
7. Business Type
Another factor in pricing is the type of business operations. Businesses in the same space can operate differently. The needs of a small boutique store vary wildly from that of a high-end fashion brand outlet. And that means varied marketing strategies for each.
Then, business offerings also influence marketing decisions and prices. So, you'll be quoting different rates to businesses selling products, providing services or offering consultations.
Each business needs a strategy that aligns with its brand image.
Note: The pricing ranges mentioned above are of agencies working mostly with small and medium businesses. Established marketing agencies might charge way more.
Wrapping It Up
Hoping you now have some clarity on how different agencies price digital marketing in India. Pricing in digital marketing is never simple. Project complexity, business type, company size and many other factors come into play.
So, research your clients and use your own sound decision to set the cost of the service you need to provide.