Can an eCommerce Store rely purely on organic SEO for its sales? Impossible, you say? Yes, in this era of social media engagement and ads, making sales from SEO seems unheard of. Especially if you aren't a retail giant.
Blusteak made it possible for a pharmacy brand.
The store gets 85% of traffic through searches. It has an average weekly revenue of 11000 USD through organic traffic alone. Also, the site's blog has built authority as a health blog.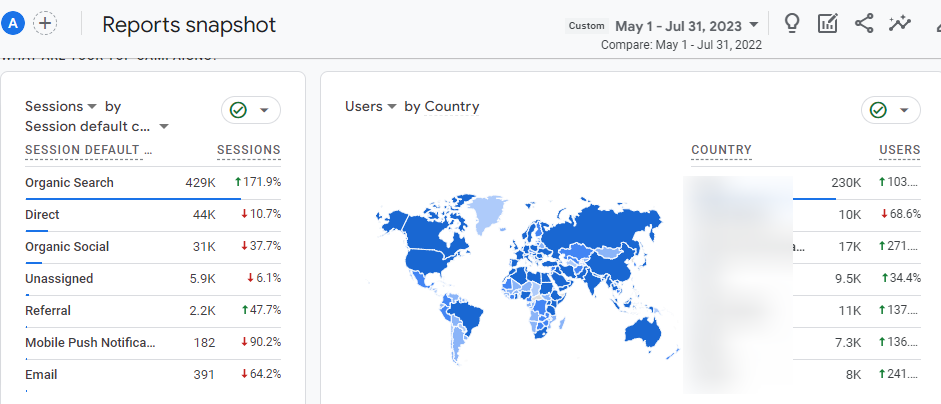 Want to know how we did it?
Keep reading.
Put search queries as product categories
When we took up the task, we were ranking in the 4th or 5th position for most of the important keywords. Our major competitor had the advantage of the exact match domain, and we were struggling to improve our ranking.
We started by categorising products according to different uses and optimised them for search by using general product queries (such as "hair care products in Qatar", "protein powder Qatar").

For that, we did keyword research to find the most relevant search queries for the products. By using popular search queries, we essentially mirrored the language our customers might use.
It improved clickthrough rates. And it ensured that potential customers found our products on search pages.
Added popular brands as collection names
Next, we created product collections with other brands' queries as their names. We noticed that branded products were also being searched by our potential customers.
We were able to tap into their brand awareness and loyalty and attract their traffic. For this, we picked products that were among the most popular in the country with decent search volume. Some of them didn't have a strong Internet presence, making it easy for us to rank.

Adding ourselves as "alternatives" to popular brands suitably improved the overall visibility of our client's store in search results.
Created (and managed) a resource-heavy blog
Apart from optimising product categories and collections, we created and published informative blogs on the site. So, our site served as a repository of value-added content for our target audience.
We also created commercial intent blogs to link to our products. These guided readers to relevant product pages, leading to increased sales opportunities.
Through our efforts, the site appeared in several featured snippets for both informational and commercial keywords

And it became a trusted source of information in the "health blog" niche in the country.
Outreached for traffic from niche websites
We also approached niche websites to feature us and our products. And it brought plenty of referral traffic. This traffic was of qualified leads because it's coming from reputed sources with purchase intent.
We picked websites that were ranking in our niche in the country. And we approached the ones that seemed to have the potential to attract relevant traffic.
These niche and high-quality backlinks also built the site's credibility and authority, further improving our ranking.
Also Read: Blogging the Blusteak Way: 128K Clicks and 5.51M Impressions within 16 months
Updated latest trending categories continuously
And it wasn't only search optimisation that we worked on. We constantly researched the market to understand changing user requirements or trends. We kept a close watch on our competitors' traffic and introduced high-demand products.
We kept creating and optimising our collections for different seasons before they arrived. And blogs were published for the same to help us stay ahead in the SEO game. 
Introducing new trending product categories was another thing we did. Even if the category had only one product, we moved ahead with the change to capture the trend.
By updating and adapting to the latest trends, the store remained relevant to customers throughout.
Conclusion
We started SEO for this pharmacy brand having a total of only 642 clicks per week. And that SEO traffic brought about 439 USD in sales on average.
Today, the site receives a weekly 26.5K clicks and an average weekly revenue of 11000 USD through organic traffic only.
SEO became the top sales channel for the brand. They were able to reduce ad spending because of this SEO success.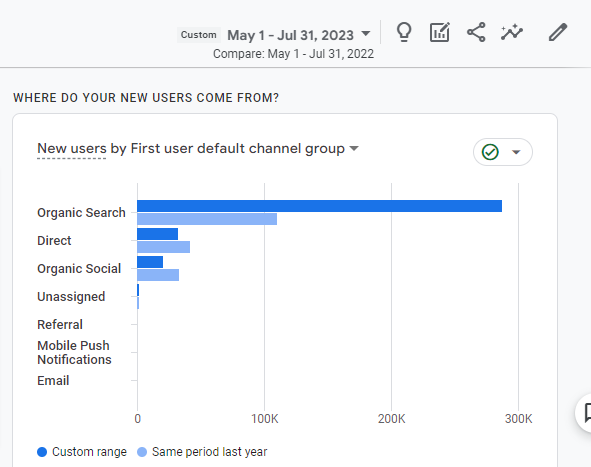 What are your thoughts? Would you be interested in having us recreate the outcomes for your website? Let's get in touch.