"Twitter's current lords & peasants system for who has or doesn't have a blue checkmark is bullshit. Power to the people! Blue for $8/month."
With that mysteriously non-ceremonial tweet, Elon Musk launched Twitter Blue with a blue tick feature. At $8 a month, anyone can get a blue check on Twitter. But what exactly is Twitter Blue? And what does it offer apart from the coveted Twitter blue check?
In this article, we're digging into the difference between Twitter vs Twitter Blue. We'll also lay out the main Twitter Blue features and the process to get the Twitter blue tick.
Let's dive in.
What is Twitter vs Twitter Blue
Twitter Blue is a subscription plan by Twitter that was launched in mid-2021. It's not a separate platform. Twitter Blue is more like an add-on that improves the user experience on Twitter and provides early access to select features.
Once you subscribe to Twitter Blue, you're also eligible to have the new Twitter blue tick. You'll get it once you pass the eligibility review.
What is the point of Twitter Blue
The point of Twitter Blue is to simply provide a premium experience for users who need more than what's available for free. For a monthly payment, Twitter Blue unveils access to additional features and benefits not available on standard Twitter.
Quoting Sara Beykpour, Senior Director in Twitter Product Management:
Twitter Blue is for users who want "power features that meet their needs." (source)
It's for active Twitter users who are willing to pay a subscription fee for a better experience. Twitter Blue provides better control over their profile and their Twitter usage. And the latest exclusive feature is: Twitter Blue with verification check.
What are the main features of Twitter Blue
Along with the prized Twitter Blue badge, Blue brings a screenful of features. Here are the reasons you might want to sign up for Twitter Blue:
1) Edit tweets
Twitter Blue subscription gives you a 30-minute window to edit your published tweets. The available changes, although limited, help in uplifting your Twitter experience. You can update tweets and tag someone or reorder attached media.
2) Undo tweets
Once you join Twitter Blue, you can also preview and undo tweets. You get the option to check your tweet while publishing and delete it. You can undo a tweet only within 30 seconds of hitting the Publish button, after which it goes out to the world to see.
3) Post longer tweets
Another benefit is the ability to tweet more than 280 characters. With Twitter Blue, you can tweet up to 4,000 characters. You can also upload and share longer (up to ~60 minutes) and larger (up to 2GB, in 1080p) video files with your followers. This video upgrade is available only on the Twitter web, though.
4) Get priority in replies
With a verified Twitter Blue profile, you also get your replies bumped up. Your tweet replies get priority in the conversation. They rank higher than tweets from normal Twitter users.
5) Organise bookmarks
After you activate Twitter Blue, you also get access to folders for your bookmarked tweets. You can organize all your bookmarks into folders for easier access and management. It's particularly helpful for those who save a lot of content on Twitter.
Apart from these features, Twitter Blue provides a reader mode, shows the top shared articles from others, and reduces the number of ads. Twitter Blue subscription also enables a number of app customization features.
How to get a Twitter Blue subscription
You can sign up for Twitter Blue on the web as well as the Android/iOS app. Here's how you can do it:
Through web browser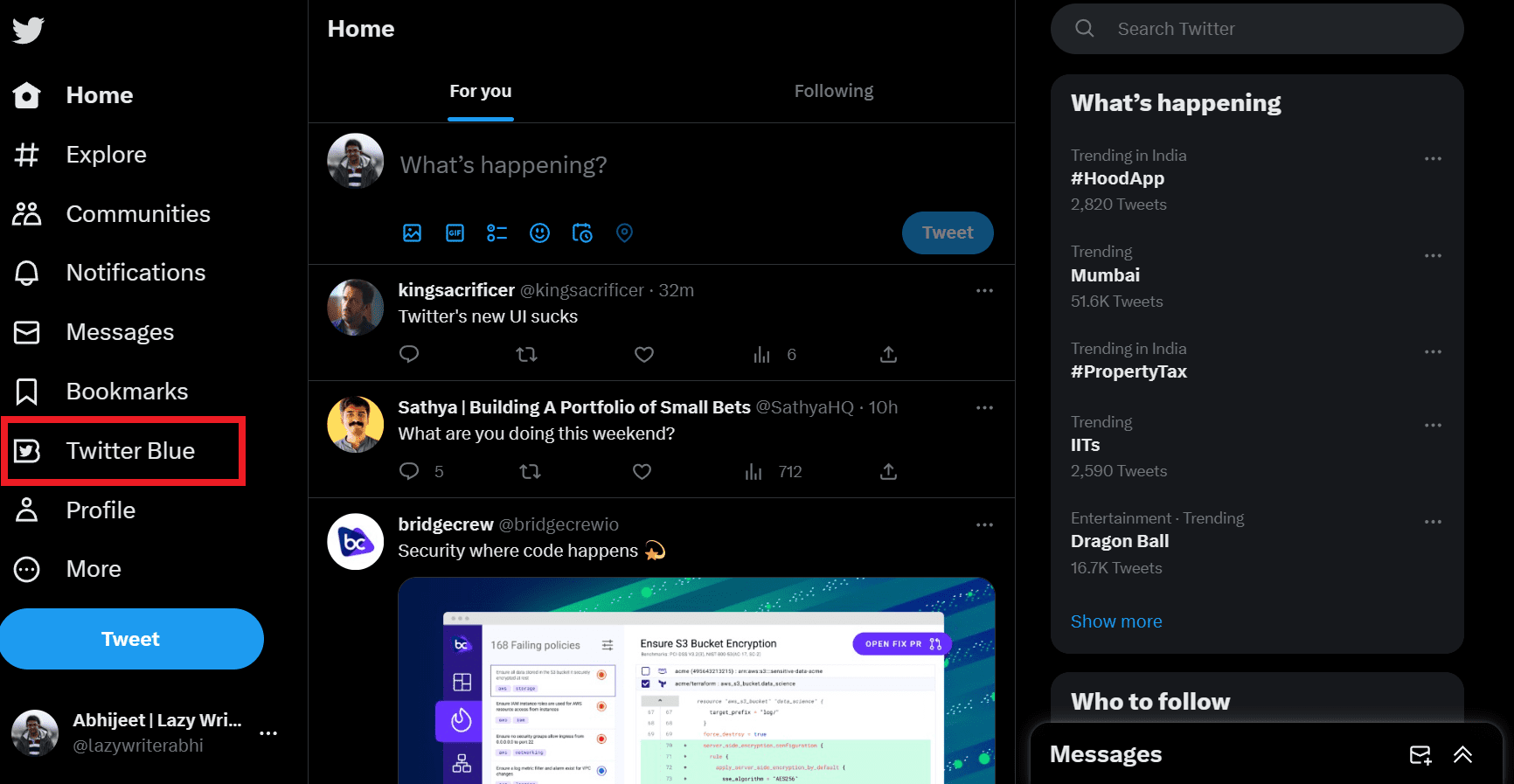 i) Open twitter.com
ii) Click Twitter Blue on the sidebar
iii) Hit Subscribe button
iv) Make the payment
v) Enjoy Twitter Blue
If your phone number isn't verified, you'll be prompted to do so before making the payment.
Through Android/iOS app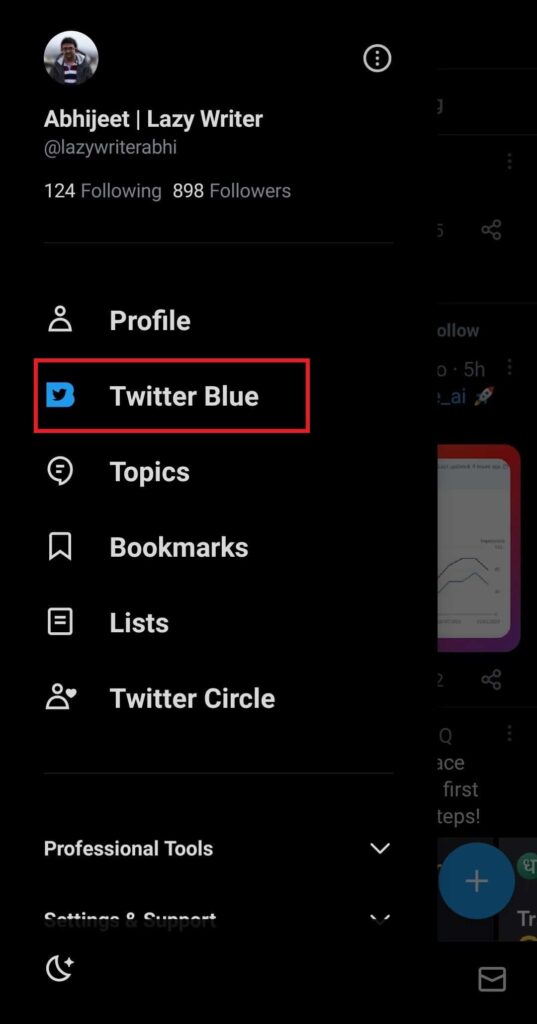 i) Open the profile menu
ii) Tap on Twitter Blue
iii) Hit Subscribe button
iv) Follow the instructions for payment
v) Enjoy Twitter Blue
If your phone number isn't verified, you'll be prompted to do so before making the payment.
After the activation of the subscription, you'll have all the features (except for the blue tick).
The blue tick appears once Twitter reviews your account and ensures that it meets the Twitter Blue requirements. A verified account then, gets priority in tweet replies.
Twitter vs Twitter Blue- FAQs
1. Is it worth getting Twitter Blue?
Twitter Blue is for hard-core users. If you're among those who want to run their business via Twitter, it would be worth to get verified on Twitter Blue. You'll be able to post longer tweets and videos. And your replies will also show up higher.
2. Does Twitter Blue remove promoted tweets?
As of now, Twitter Blue doesn't provide an ad-free experience. It's working on reducing the number of promoted content shown to Twitter Blue users, but it won't remove them entirely.
3. How many people pay for Twitter Blue?
As of February 2023, Twitter Blue has around 300K paying users globally.
4. How many followers do you need to get Blue?
Twitter hasn't specified any minimum number of followers to get Twitter Blue verified. As long as your profile complies with the Twitter Blue rules, you're eligible to be verified.
5. How much is a Twitter blue tick?
The announced cost of Twitter blue tick is $8 per month (for web) in the US. You get access to all the benefits of a Twitter Blue subscription, along with the blue tick. But the pricing differs from country to country. Check Twitter Blue country-wise pricing
6. Can a normal person get blue tick on Twitter?
With the new Twitter Blue subscription, anyone can get a blue tick; if their profile passes the specified requirements.
7. How to turn off Twitter Blue?
You can cancel and turn off your Twitter Blue subscription from the settings either on your app or the twitter.com website.
Wrapping It Up
Twitter Blue gives you access to additional features that turn you into a Twitter power user. You can edit tweets, undo tweets and write longer than regular tweets. So, if you're on Twitter for business, Twitter Blue might be a worthy investment. It adds more zing to your experience.
If you subscribe to Twitter Blue, you're also better eligible to get the verified blue tick. So, subscribe and enjoy the premium Twitter experience.