Twitter released its Spaces for beta testing in December 2020, calling it "a small experiment focused on the intimacy of human voice."
It is being seen as a competitor of Clubhouse – the popular voice-based social media. Spaces, however, has got an edge over Clubhouse. While Clubhouse is available only for iOS, Twitter Spaces is being tested on Android as well as iOS.
So, can Spaces be the Clubhouse for Android everyone has been waiting for?
Well, read this article to find out. In this article, I'm detailing the features of the Twitter Spaces app, how it works, and if it's any better than Clubhouse.
Let's dive in.
What is Twitter Spaces?
Spaces are audio-based chatrooms to interact with your followers, your Twitter community. It is a feature being built within the Twitter app.
In Spaces, you can gather a group of users for live audio conversations. You can invite speakers, share your tweets and use emoji gestures to keep the conversation on. Spaces are public, so all your followers can join and listen to your conversations.
Similarly, you can enter other public Spaces and listen to the live relay.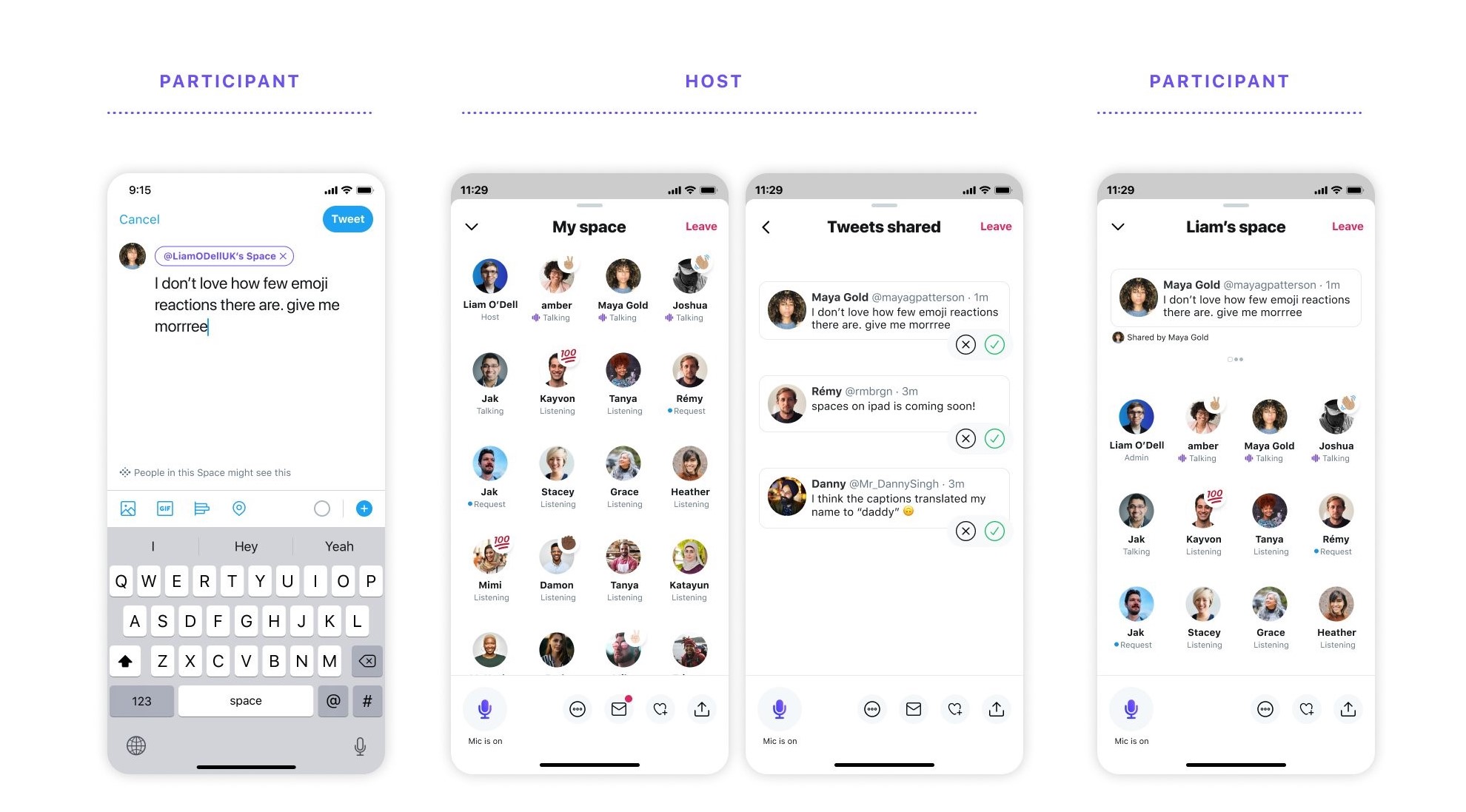 Work-in-progress screenshot of Twitter Spaces
(as shared by Maya Gold)
How does Twitter Spaces work?
Twitter Spaces beta is available to a small group. As of February 2020, only around 4,000 beta testers have access to Spaces, Tom Warren (Senior Editor at The Verge) reported.
And here's how to use this Clubhouse alternative for Android and iOS:
How to create a Space on Twitter?
You have two ways to begin a Twitter Space on the app:
Long press the Compose button and tap on the Spaces icon
or
Tap on your profile image in the Fleets section, and then on the Spaces icon
Now, you can invite up to 10 people to speak. Then, choose who can join your Space with speaking privileges. The options are – Everyone, People you follow, or Only people you invite to speak.
When you're ready:
Tap on the "Start your Space" button
Toggle "Allow mic access" to On
Toggle "Share transcriptions" to On (if you want)
And that's all you need to create a Space on Twitter.

Screenshot of ongoing Twitter Spaces
(as shared by Jane Manchun Wong)
How to join other Twitter Spaces?
Spaces are public and you can join the Spaces of people you follow. You will see their Twitter Spaces in your Fleets section. Tap to join the fun.
Also Read: 7 Innovative Ways To Make Meaningful Connections With Your Customers On Social Media
What are the features of Twitter Spaces?
Spaces has all the features which make it similar to the Clubhouse iOS app. You can invite people you want, check who all are part of the room, and see who is speaking. And of course, you can join other Spaces and be a part of the conversation.
Some other features of Spaces beta are:
Spaces are public and they appear in the Fleets section
Anyone can join as a listener
Twitter Spaces have public links
Participants can share links for others to join
Creators can remove, block and report participants
Creators can control who can speak in their Space
Up to 10 people can speak in a Twitter Space at the same time
There is no limit on the number of listeners
Accounts with protected tweets can't create Spaces
Only the person who created a Space can end it
Once a Space ends, Twitter keeps the recordings for 30 days to review for violations. You can download the data of your Space within that time. Also, if the Space had transcriptions turned on, speakers can download a copy of what they said.
And if a Space violates any rule, the data is kept for 90 more days, so people can appeal.
Some other features being tested on both Twitter Spaces android and iOS are the ability to share tweets in Spaces, automated captions and emoji reactions. So, if you're waiting for a version of Clubhouse for Android, Twitter Spaces download might be a better alternative.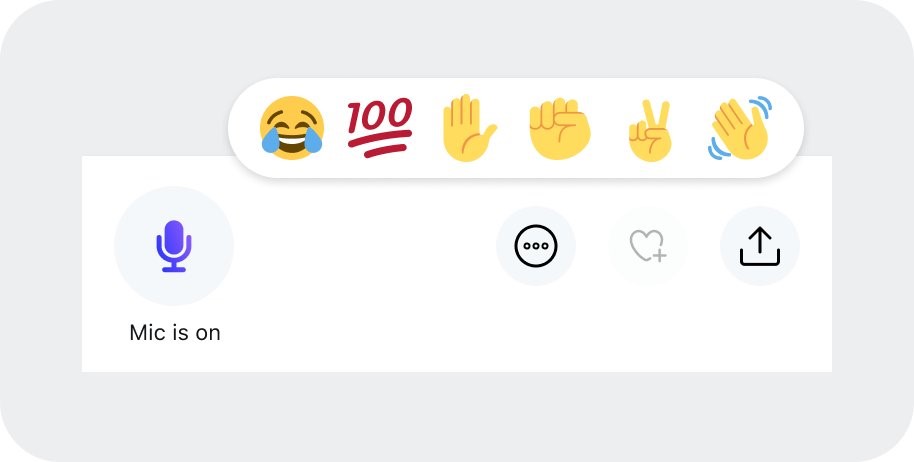 Available emoji reactions in Twitter Spaces beta
(as shared by Danny Singh)
Also Read: How to Use Discord to Market Your Business?
Twitter Spaces vs Clubhouse – How are they different?
Some major differences between Twitter Spaces and Clubhouse are:
Twitter Spaces is being tested for Android as well as iOS. But the Clubhouse app is available only on iOS.
Unlike Clubhouse, a Twitter Spaces invite is not needed. Its beta version is being gradually rolled to users.
Twitter Spaces doesn't have any limit on the number of people who can join a room. Clubhouse, as of now, has a limit of 5000 people per room.
Spaces allows a listener to give feedback to the speakers using emojis. Clubhouse doesn't have that feature.
On Twitter Spaces, you can post and discuss tweets. In Clubhouse, you can't share pictures, videos or text.
Twitter Spaces will have live captions, so listeners can also read what is being said. But Clubhouse doesn't have this feature.
Conclusion
The concept behind Twitter Spaces and Clubhouse is the same. Both are audio-only chat rooms. So, unless Clubhouse comes out with an Android app soon, Twitter Spaces might be the Clubhouse for Android.
And Twitter Spaces has a good chance of replacing Clubhouse even on iOS.
Spaces feature is built into the Twitter platform. So, users will get the benefit of their existing online presence. And with additional features like data download, emoji reactions and live captions, Spaces might be more user-friendly than Clubhouse.