Social media is the most efficient way to reach your target consumers and establish a personal relationship with them. But to communicate the value of your products and services, you must engage them in the language they're comfortable with. ShareChat Ads can help you with that.
ShareChat is an Indian social media platform which supports (only) Indian languages. It helps users to interact in Hindi, Marathi, Telugu and 11 other languages, but not English. And with ShareChat Ads, you can reach that vast majority of users that don't use English as the primary language.
So, today we are digging into the benefits of running ads on ShareChat, the steps involved, and the varied targeting options it provides.
Let's begin.
Who is ShareChat Ads best suited for?
ShareChat Ads is suitable for every brand which wants to reach a digital-first customer in India. Whether your goal is to build brand awareness or increase website traffic, ShareChat Ads will come in handy.
Check the results from a small campaign we ran on ShareChat Ads. The client wanted brand awareness in the Tier 2 and Tier 3 cities. And with an ad spend of only ₹454, the campaign received 64K+ impressions. It also registered 227 clicks from the target audience.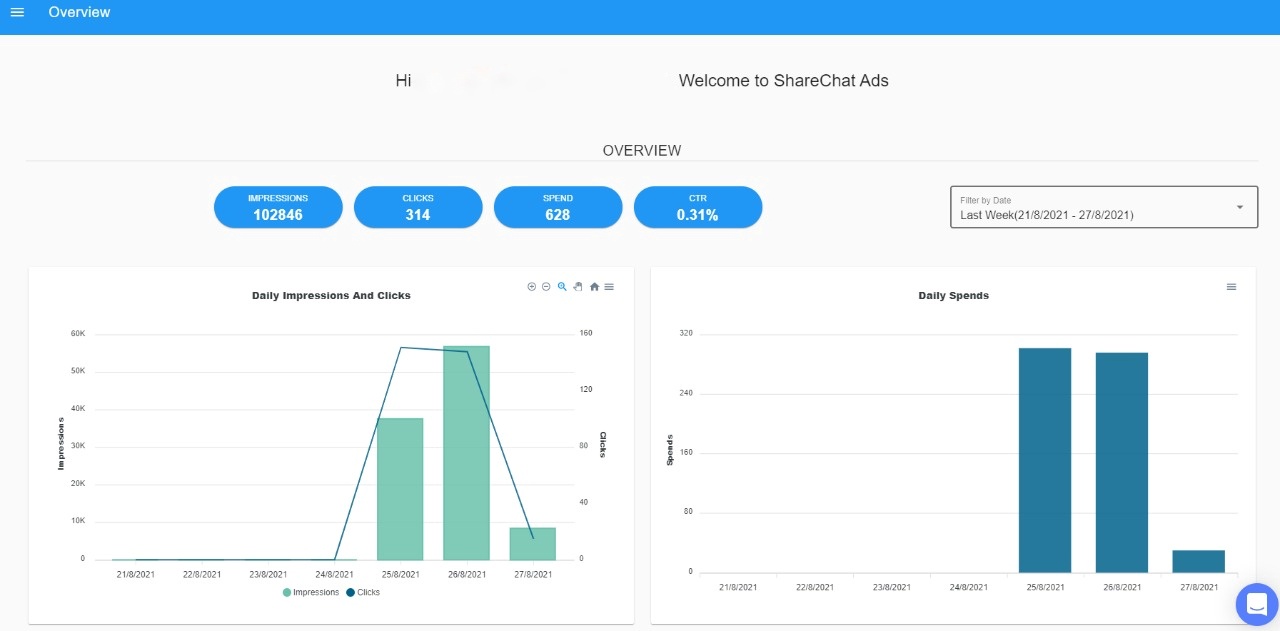 So, ShareChat Ads would be the most effective for those brands wanting to reach customers in the non-metro cities of India. After all, 53% of the non-metro users prefer regional language content on social media platforms. And they would be the most active on ShareChat.
Also Read: 7 innovative ways to make meaningful connections with your customers on social media
Why should you advertise on ShareChat?
Reach customers across India:
ShareChat claims to have over 340 million monthly active users. You can leverage that reach and build a connection with those users by advertising in their language.
Discover new audience:
The user base of ShareChat is the population from the Tier 2 and Tier 3 cities and rural areas who prefer regional languages. And new users are signing up regularly. This rural audience size registered a growth of 13% in 2020.
Target who matters the most:
ShareChat offers multiple targeting options, including user demographic, devices they use, and their content consumption interests. You can also target users based on the apps they use and products they're searching on the Internet.
Set different goals:
Whether your goal is to generate interest in your product and service, or get more traffic, ShareChat Ads can help. You can also set up lead generation campaigns to improve conversions.
Get started quickly:
ShareChat Ads Manager comes with a clean user interface and a straightforward set up process.
Steps to run ads on ShareChat
1) Sign up for ShareChat Ads Manager
To run ads on ShareChat, create an account at ads.sharechat.com.
Once you've your account set up, the Overview page opens. From this page, you can create a new campaign, manage existing ads, and add funds to the Ads wallet.
Click on "Create Campaign" button to set up and run a new ShareChat ad.
Also Read: How to Use Quora Ads to Promote Your Business
2) Determine your goals
Now, give your campaign a recognisable name and pick the right objective for your ads.
The available options are:
Brand Awareness: to make your audience aware of your product/service
Traffic: to encourage people to visit a landing page
Conversion (coming soon): to get your audience to buy your product/service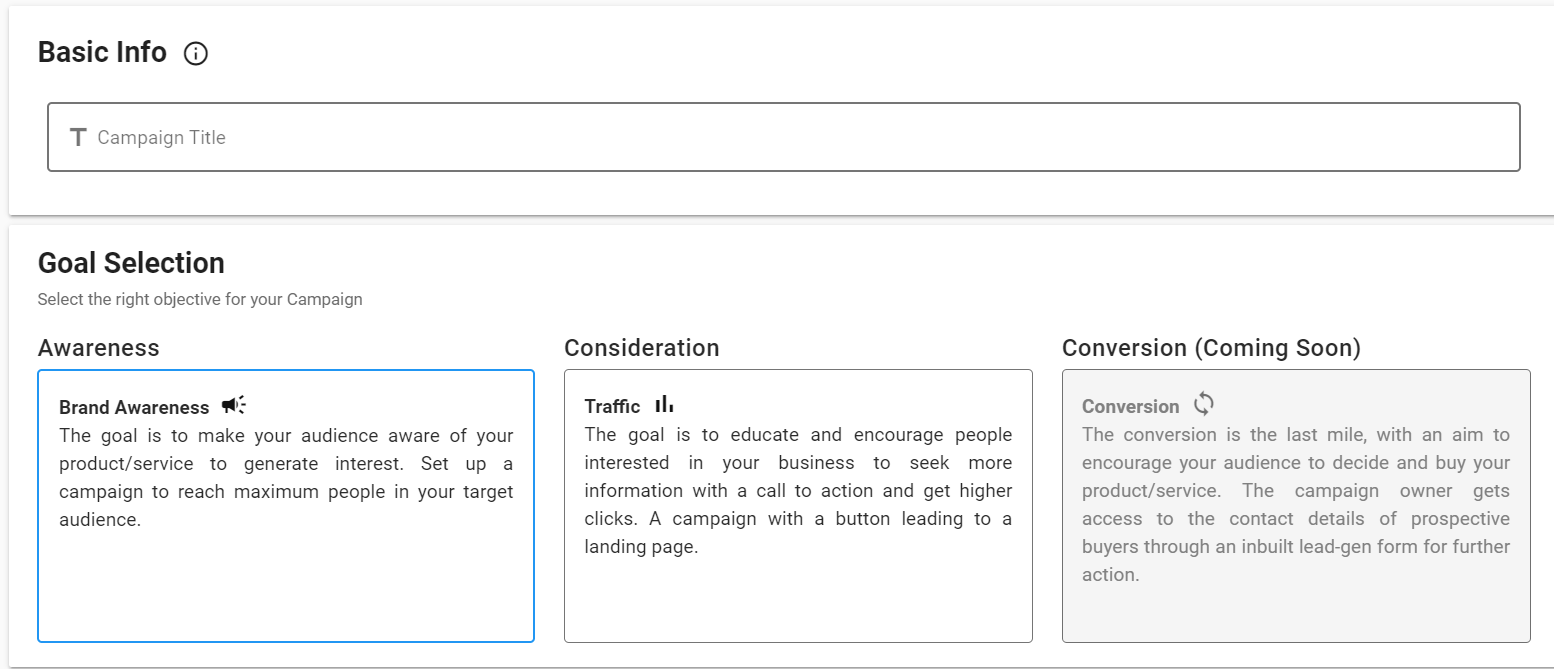 3) Select the ad format
Select the ad placement you would like to use, and click "Next" button.
ShareChat offers three different places to display ads:
Native In-Feed Ads: on the main feed of the users
Full-Screen Video Ads: auto-playing video ads, on the dedicated video feeds
Exit Interstitial Ads: interactive full-screen ads, when a user exits the app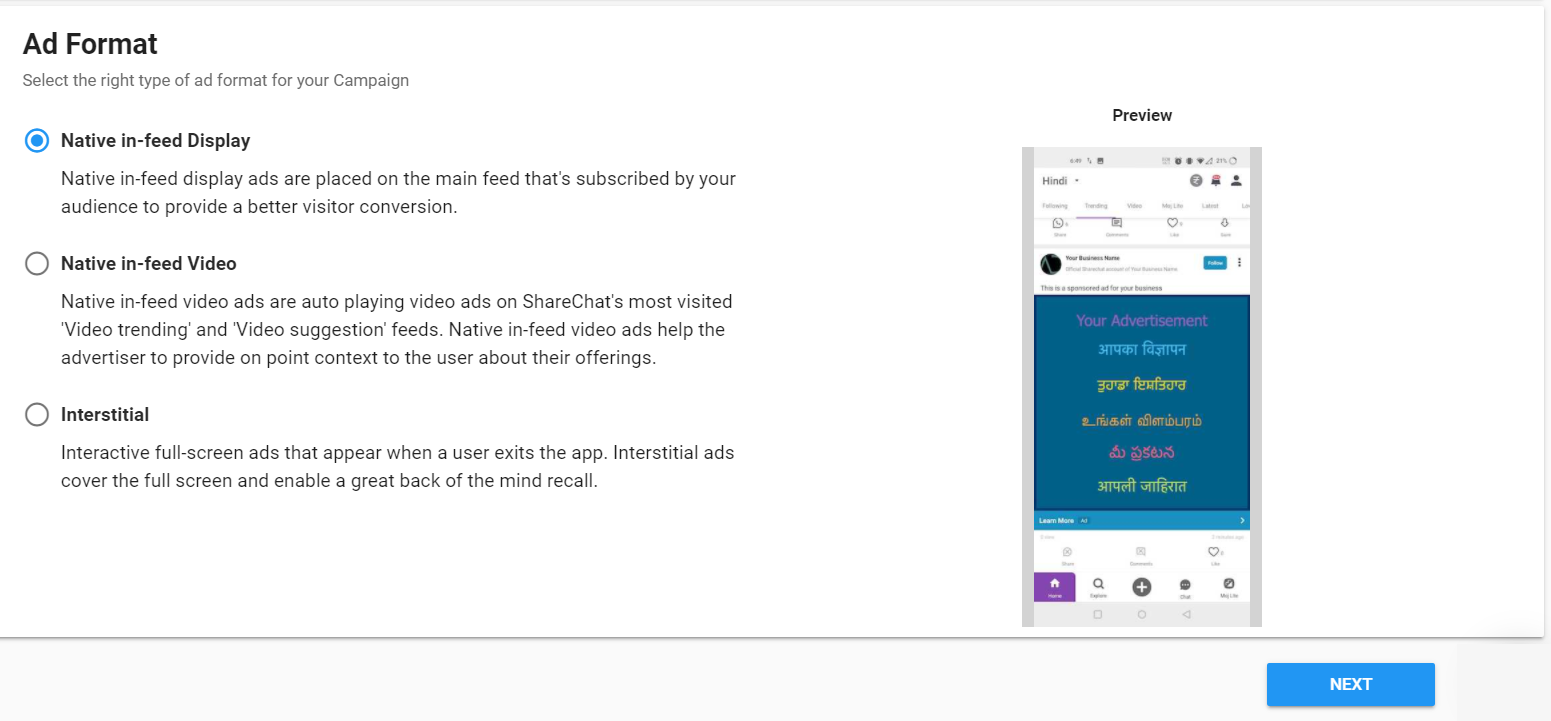 4) Schedule campaign and set budget
On the next screen, select campaign start date and time, and end date and time. Then, choose the preferred pricing model (Cost per 1000 impressions or Cost per Click) and set the budget for the campaign.

5) Set targeting options
After setting the campaign dates and budget, pick your target audience.
ShareChat Ads Manager has the following targeting options:
Age and Gender: to target users according to their age group and gender
Location: to target users according to their city/state of residence
Device and Operator: to target users according to their device and mobile network
Usage: to target users based on their content consumption and apps on their devices
Interests: to target users based on the products they're searching online
You can fine tune your target audience using a combination of AND/OR operations.
Next, set the rotation and frequency for your ad creatives. The rotation can be set to either Evenly or Click Performance. And the frequency capping per user can be set for a week, days or lifetime.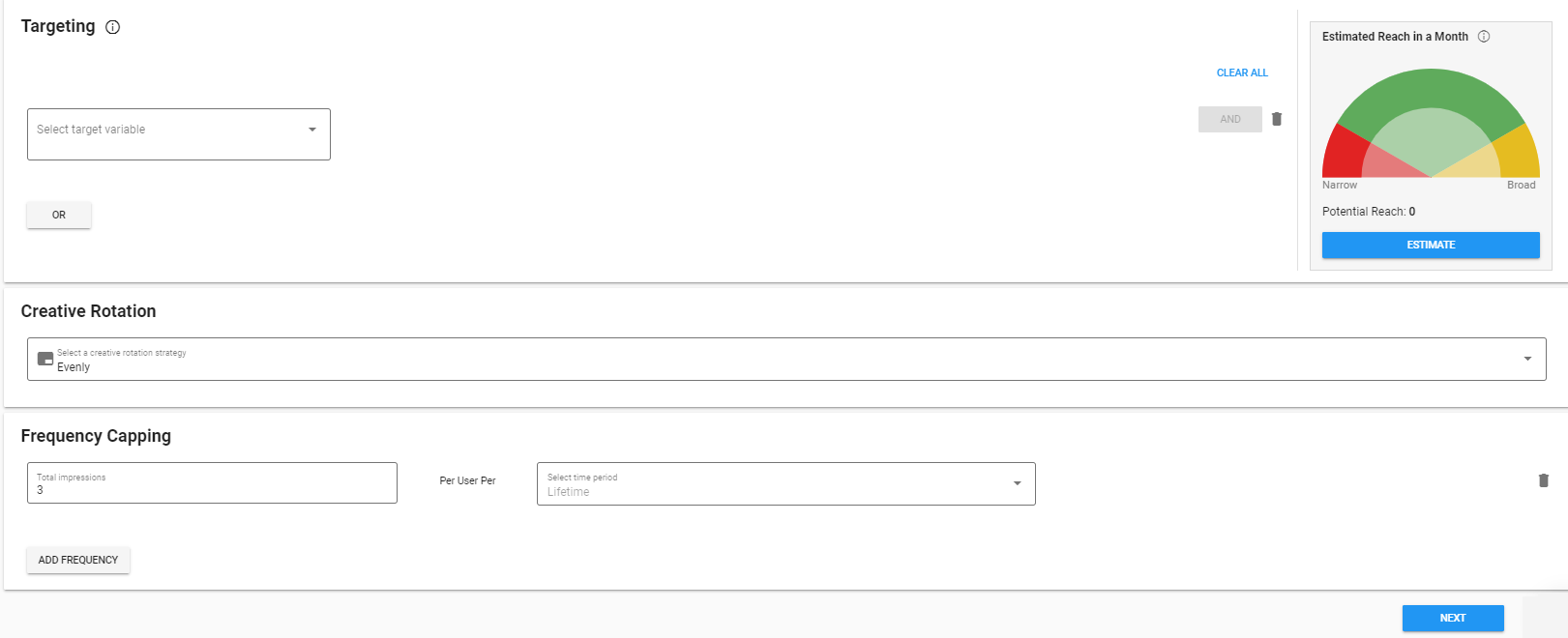 6) Upload the creatives
On the last screen, set the language attribution and add the files (images and videos) for your ad campaign.
ShareChat Ad Image Dimensions and Specifications:
Width:                  500px to 1080px
Height:                 500px to 1080px
Aspect Ratio:       1:1
Max Size:              250 KB
ShareChat Ad Video Dimensions and Specifications:
Max Width:              1920px
Max Height:             1920px
Aspect Ratio:           9:16, 16:9 or 3:4
Max Size:                  20 MB
At last, set the target URL, CTA text and button colours, and impression tracking URL (if any).
7) Launch the campaign
Now that you've set the budget, picked the target, and uploaded the content, click the "Submit" button. Your part of work is done. Wait for the ShareChat team to review the ad and make the campaign live.
Wrapping up
ShareChat is the ideal platform to reach the growing user base in non-metro areas of India. So, if your target audience is in those towns, use ShareChat Ads to advertise your products and services.
Need some help?
Get in touch to know more about ShareChat Ads, set up ad campaigns, and get the best ROI.