Introduction:
This case study illuminates the remarkable journey of Angel Lungies, a brand specializing in premium bath towels, Lungies (Dhotis), and Kavi apparel, in their expansion into the competitive realm of Amazon. Facing the challenge of establishing a presence in this new segment, the client sought to launch their product line on Amazon, garnering attention, ratings, and reviews. In less than 15 days, through a multi-faceted approach encompassing product launch, cataloging, and strategic advertising, Angel Lungies achieved an incredible feat by becoming a bestseller and securing five placements within Amazon's "Hot New Releases" top ten.
Client Overview:
Client Name: Angel Lungies
Industry: Fashion/Clothing
Brief: Angel Lungies is a distinguished provider of premium-quality bath towels and a diverse range of Lungies, Dhotis, and Kavi apparel, each offering a unique manufacturing process. Their product line features four designs, each available in three distinct colors. Prior to this endeavor, Angel Lungies was entirely new to this particular market segment.
Services Focus: Product Launch on Amazon, Cataloging, and Ads
Result Achieved:
– Bestseller status within 15 days
– Five placements within the Top 10 "Hot New Releases" on Amazon
The Challenge:
Angel Lungies faced a myriad of challenges while venturing into the competitive world of Amazon. As a new entrant in this segment, they encountered a lack of ratings and reviews. Moreover, their brand was a newcomer, with no established presence. The goal was to quickly establish a foothold and generate buzz.
The Solution:
Our multifaceted approach was designed to comprehensively address Angel Lungies' challenges and position them for rapid success:
1 . Optimized Product Detail Pages:
We created captivating and SEO-optimized product detail pages, ensuring alignment with Amazon's standard and category guidelines. These pages were meticulously designed to highlight the unique qualities of Angel Lungies' products.
2. Strategic Advertising Campaigns:
Leveraging a combination of broad match, product targeting, and auto campaigns, we launched a well-rounded advertising strategy. This approach generated initial buzz and facilitated growth by reaching a broad audience.
3. Promotions and Coupons:
We devised targeted promotions and coupons, incentivizing customers to make their first purchase and leave reviews. This strategy encouraged early customer engagement and feedback.
4. Fulfillment by Amazon (FBA):
We optimized logistics by utilizing Amazon's FBA services, making products eligible for Amazon Prime. This enhanced the brand's credibility and trustworthiness.
5. Dedicated Brand Store:
From the ground up, we created a brand store on Amazon. This dedicated storefront served as a centralized hub for showcasing Angel Lungies' entire product line.
6. Product Video and Video Ads:
To further engage customers, we produced a compelling product video that highlighted the premium quality and unique manufacturing process. Video ads directed traffic to the store pages, enhancing brand visibility.
7. Message and Brand Positioning:
We crafted a compelling narrative around Angel Lungies' unique selling points. Emphasizing premium quality combed cotton and a distinct manufacturing process, we highlighted the availability of four designs in three distinct colors. Our communication revolved around these key selling points, creating a compelling and consistent brand image.
Conclusion:
The collaborative efforts between Angel Lungies and our digital marketing team resulted in an astounding success story. In less than 15 days, we propelled Angel Lungies to bestseller status on Amazon, securing five placements in the coveted "Hot New Releases" top ten.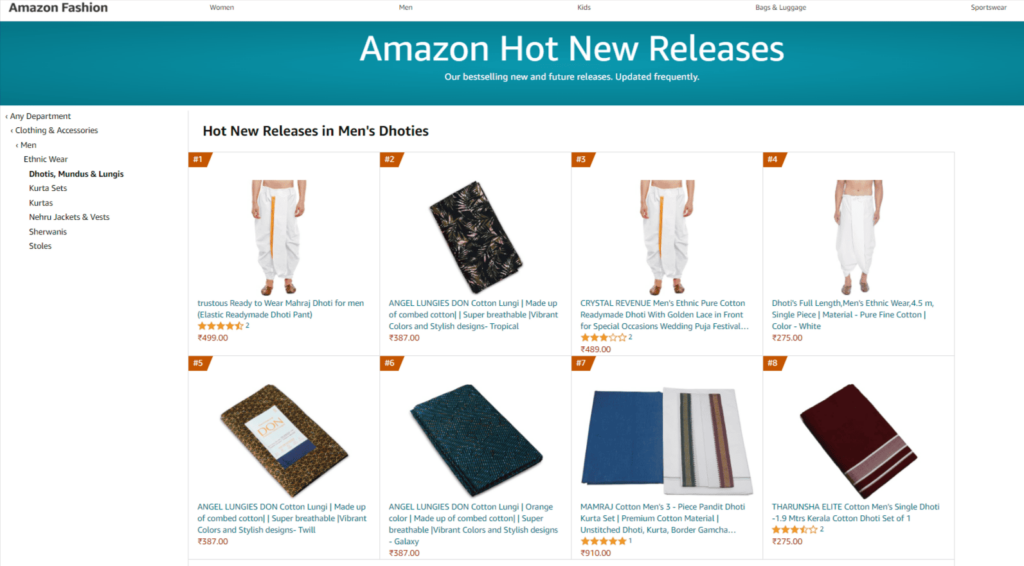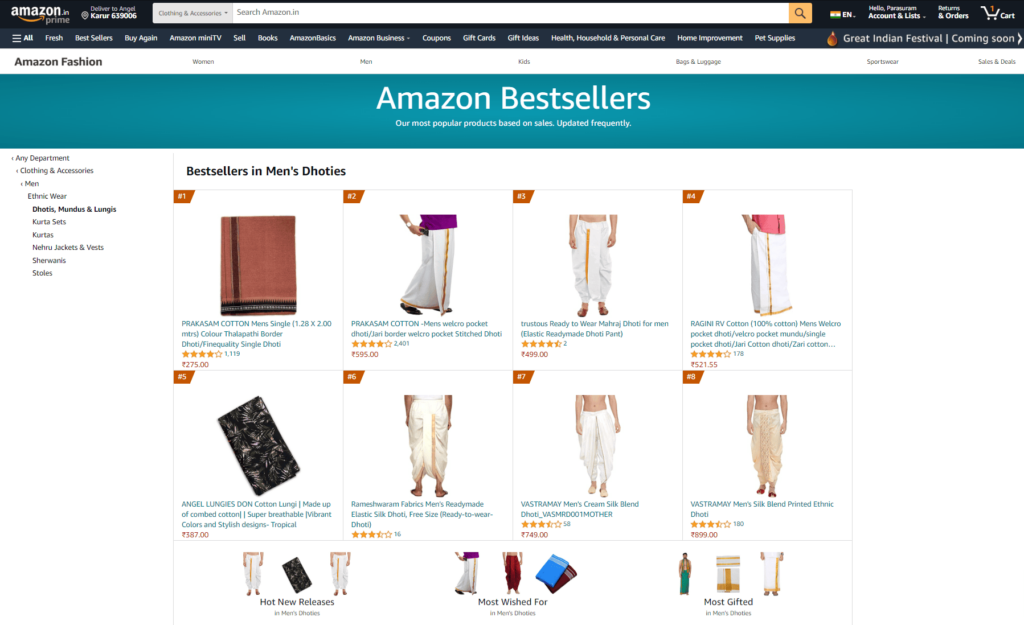 This rapid ascent showcased the power of strategic product launches, cataloging, and advertising in the digital marketplace. Angel Lungies is now poised for continued growth and success in the world of fashion on Amazon.