Blusteak recently collaborated with Kelachandra to help them increase their social media presence and reach. We utilized Instagram story strategies which helped garner over 250k views on the reels we created for the brand. 
If you're curious about how we did it, keep reading to find out!
About the Brand
Kelachandra is a PVC pipe and fittings manufacturer based in Kerala, India. It has been a trusted brand in Kerala since 1974, providing well-recharging systems, water storage, and plumbing solutions to its customers.
Kelachandra has a long-standing reputation for quality and reliability, making it the perfect choice for all your PVC needs. With a wide range of products that are designed for durability and functionality, Kelachandra is your one-stop-shop for these solutions.
Brand Concern
Kelachanda has a unique niche-based selling point. The project is aimed at people who are looking for water solutions such as plumbing or water storage. Because of this, Kelachanda has faced low brand visibility and engagement on social media platforms such as Instagram.
The Ultimate Solution
We rolled out a campaign for Onam called Maveli Kalippilanu. The highlight of the campaign were the three ad films we produced.
We created a series of ad videos featuring Maveli who is annoyed with the misconceptions about plumbing and the Kelachandra brand. We produced the videos in a vertical format to be shared on Instagram Reels as well as stories. 
The ad videos each focus on a single concept, but with a different context that each relates to the products and brand USPs.
1. Other activities
We planned to release several teaser ads to get people talking about how annoyed Maveli felt this year.
View this post on Instagram
View this post on Instagram
2. Contest
We ran a contest with the goal of increasing engagement and followers for the brand. The contest lasted for one week.
View this post on Instagram
View this post on Instagram
3. Story Campaign 
In order to generate interest for the ad campaign we created, we implemented a story campaign that would catch the attention of the brand's target audience.
What We Achieved
For the ad films, we achieved an organic reach of 21k+, 22k +views, 548 shares, and 1550 reel interactions.
Selecting The Reel Model
We went with a famous person for the role of Maveli (Dasettan Kozhikode) because we needed someone with a good face value. Dasettan's Instagram profile engagement rate is 3.11%, which is considered good.
Influencer Marketing
For our influencer marketing campaign, we collaborated with Dasettan and created a reel. The campaign did very well, receiving over 120,000 views for the collab reel. 
Hike in the views within 1 day of Collab
Before Collab: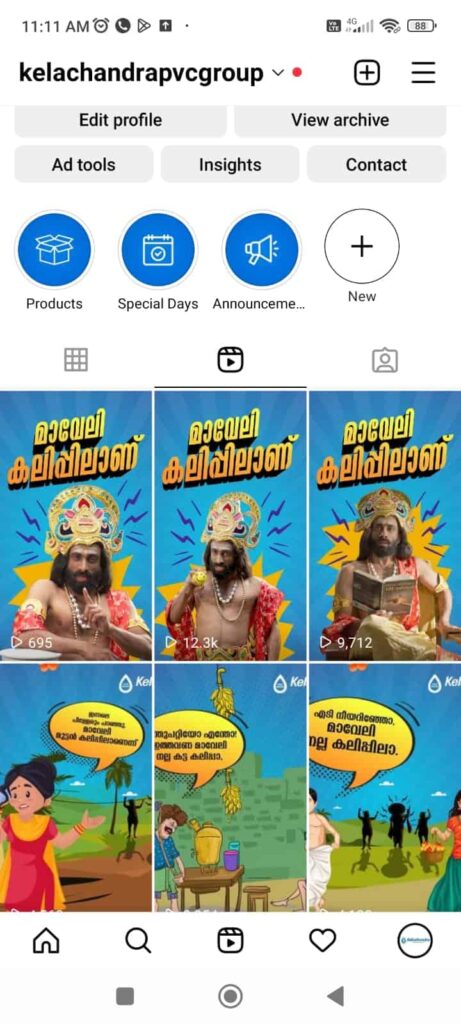 After Collab:       
Meme Page Marketing
There are four popular meme pages in Kerala. We decided to go with stories instead of reels because they're more affordable. We created captions related to the influencer (Dasettan) and also mentioned the Kelachandra page in them.
 

The Ultimate Result
The result of our efforts was extraordinary. 
The final results of our campaign achieved over 250,000 +reel views, 1299 shares, and an 18.2% increase in followers.